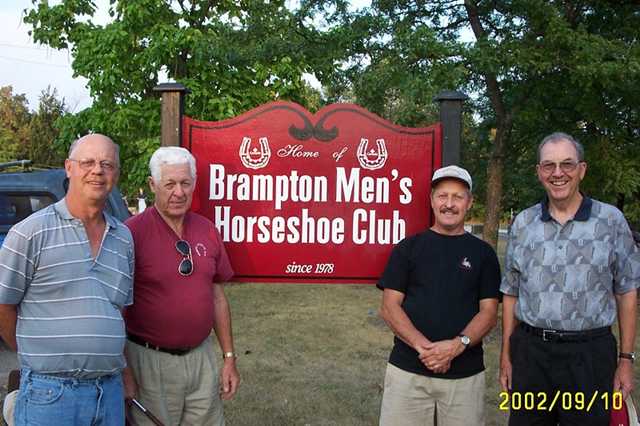 The Three Originals (1978) and Tom Corner who joined in 1980
Sign is at the entrance to our courts, at Centennial Park
Harry Collins Co- Founder, Elwood Pembleton, John Loder, Tom Corner
In 1977 after a large contingent from Brampton traveling to Georgetown each week, for two years, where they made up the majority of the 44 member club.  Elwood Pembleton and Bert Large met with Town officials in the fall of 1977 and convinced them to provide the land at Centennial Park. Work began in the spring of 1978 to construct 6 courts, and were ready to be begin the 1978 season, with 35 players and 8 teams, and was named the Brampton Horseshoe Club. Later to be changed to the Brampton Men's Horseshoe Club.
The club was formed to provide a place, to develop and promote the game of horseshoes and provide an alternative affordable sport for the citizens of Brampton.
There were 35 members signed up and ready to play. Elections were held that spring and 
Gary 
Pembleton
 became the first 
President
, 
Elwood Pembleton 
Vice-president, 
Joe Weiler
 Secretary/Treasurer. The 
Executive committee consisted of  
Bert Large, John Loder, Joe Parker and Ken Pembleton
.
 The next step was to draw up a constitution, our executive, together with City official Don Doan, drew up our first constitution and rules of play and named it the Brampton Horseshoe Club ( later changed to the Brampton Men's Horseshoe Club).
To view 35 years of History of our Club, please visit our History page.
There are 2 volumes of club history dating back from 1978 to 2012 which celebrates 35 years of Pitching, Tournaments, Awards, Statistics, Photographs, Banquets and fun times.
Further History can be found in our Annual Yearbooks from 2002 to 2019
1978 The Originals

Bob Ackroyd
Terry Dorou
Don Lagerquist
Joe Parker
  Wayne Scobie
Joe Weiler
Bill Collier
Joe Gaudet
Bert Large
Doug Pembleton
  Wayne Shand
Don Wenn
Barry Collins
Bill Guthrie
Paul Kavanagh
Elwood Pembleton
Bruce Thompson
Russell Westerby
Harry Collins
Gord Hammond
Leo LeClair
Gary Pembleton
Vic Tomlinson
Dennis Wright
Jeff Cunningham
Gary Higgins
John Loder
Ken Pembleton
Ted Watson
Ron Young
Ernie Dewesbury
Bill Jobson
Ron Meyers
Fred Power
Larry Weatherall
 
Harry Collins and John Loder will play their 44th season come May of 2021
BMHC is one of Ontario's largest horseshoe clubs with over 130 full time members.Teams consist of 4 players. We currently have 12 courts which allows us to accommodate 24 teams per night. This gives us 96 full time pitchers playing on Tuesday nights, which we divide equally across 4 division (A, B, C & D). In 2013 we added another division of 6 teams playing on Thursday night. Annual membership registration takes place early in April and teams are formed within the next two weeks.
Spare Players:
Throughout the year we carry additional spare players that float from team to team within their division, filling in for missing players.
With 130 players from all walks of life and age groups. Its not uncommon to have players absent.
Our spares are a very important part of the club.
Not only do they fill a gap and help keep the pace of the matches even, a spare player's full score is used in determining the outcome of the matches.
Typically our spares are players that join partway through the year, or cannot make a full time commitment, or just want to try the club out.
We're proud to say that most people who try out the club pursue full time membership the following year.
We have had members who for various reasons left the club, but have returned after being away for many years, some go back 20 years or more.